Integrated online corrosion monitoring system
Products list
The integrated online corrosion monitoring system is a comprehensive corrosion monitoring system integrating the inductance corrosion monitoring, resistance corrosion monitoring, electrochemical corrosion monitoring, and pH monitoring and other means.
Technical features
1.A variety of time proof probe design (0.25mm, 0.5mm, 0.75mm, etc.), generally meeting the needs of four-year overhaul cycle in the industrial field;
2.On the basis of the theory of self-compensation and through the addition of real-time temperature measurements, adoption of double self-compensation technique makes measurement data of corrosion rate more accurate;
3.Adoption of unique probe and circuit design effectively eliminates the field electromagnetic interference and thus improves the measurement precision and accuracy of system data.
4.Adoption of new data workstations to achieve field data collection, storage, and network transport functions simplifies the system structure and reduces the installation costs;
5.Implementation of network breaking protection improves data security, with network breaking storage capabilities up to 30 days;
6.Brand new cloud computing data processing technology significantly improves the speed of data processing and other resources.
Typical configuration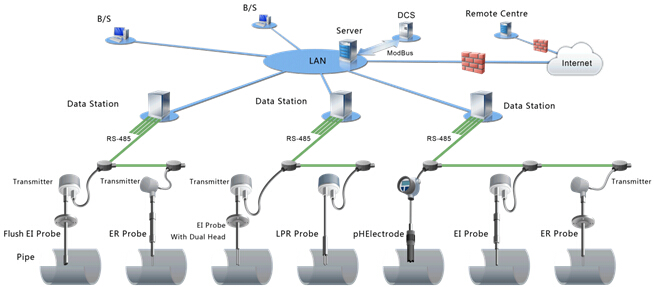 Data management and analysis
By the B/S software, corrosion monitoring data management system can manage, display and analyze the inductance monitoring, electrochemical monitoring and pH monitoring data.
·Be suitable for the data management and analysis of many monitoring methods.
·Comprehensive function, intuitive corrosion trends, convenient data comparison.
·The data can be queried and browsed any time.
·Maintain simply and conveniently.